Paper & Excel timesheets seem difficult to automate.
Let us show you how.
With Pacific timesheet, you can capture data and manage everything your way. Our system templates are more flexible than any other competitor. In minutes, you can rough out crew and individual time and tracking sheets. Match your formats. Use your terminology. Learn how you can automate time, expense, assets and log tracking — quickly and cost-effectively.
Named a Top Construction App 2017

Pacific Timesheet is accessible by any smartphone or tablet (even a Kindle) and allows you to track, submit and approve employee hours, expense, asset and documentation data anywhere, anytime. Data are recorded in real time.


---
Flexible crew timesheets turbocharge data capture
Flexible crew timesheets allow you to match what you have.
Customize and extend your forms, sheets, workflows and security any way you want.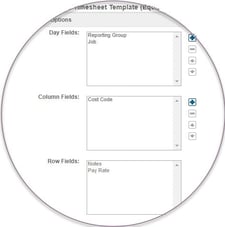 Match your crew timesheets and forms exactly
The transition to using mobile devices and Apps can be challenging. Our systems can match exactly your layouts and terminology, and improve upon what you have. Eliminate pain points, and accelerate change.

See the variety of crew timesheet forms and sheets you can support.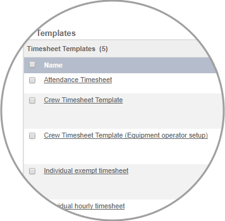 Have multiple timesheet formats in the same system
Pacific Timesheet can support many divisions in one system: commercial buildings, pipelines, highways and roads, excavation, demolition, civil projects like bridges and tunnels. Automating time, expense, asset and log tracking will fail out of the gate if you try to harmonize everyone on one set of electronic forms. A successful system must be able to support multiple data entry screens, forms and sheets for your diverse business.
See how to support multiple sheets and forms.
Enterprise crew timesheets: time & labor, expenses, equipment, production, materials, & any logs
Crew tracking often needs to suit the needs the job, especially if the client reviews or approve crew sheets. In addition to custom formatting and layouts, Pacific Timesheet allows you include or exclude any types of data in your crew tracking. Include production tracking and per diem for some jobs. Include detailed employee expense items like parking and meals for others. By customizing crew tracking you can get rid of the clutter of one-size-fits-all forms and sheets.
See how to support including/excluding data types from forms and sheets.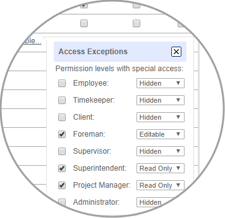 Advanced data field-level security
When you capture data in the field, you might need to enable or restrict editing or hide certain fields for various users. With Pacific Timesheet you can show, hide, allow editing, make read-only, require or not require fields any way you want. This capability will allow users at all levels to edit, modify and add to forms, sheets and logs, creating a comprehensive and consolidated record of activities with a limited number of forms and sheets. See how to use data field-level security to support additive data capture.
Employee Time and Labor
Track employee time by job, cost code, equipment, W/C codes, location, client or anything you need. Auto-populate employee billing codes or pay classes. Track work and leave hours, regular, overtime, double time, shift, or any kind of leave.
Field Documentation & Logs
Track field documentation like daily foremen logs, safety checks, morning huddles, work plans, incident reports and more. Logs and reports are completely customizable: required fields, data-field-level security give you total control over entries, submittions and approvals.
Approve anything at any interval
Daily or weekly approvals of crew timesheets, assets, per diem, and logs. Project manager approval dashboards for higher-level asset and log approvals by project managers.
Multiple approvals
Up to four approval levels that you name anything you want –– supervisor, superintendent, project manager, client approvers, with backup approvers at each level.
Automated notices
Email reminders, approval and rejection notices with detailed comments and instructions, ensure that timesheets are accurate and on time every time.
Equipment + operator hours
Track equipment hours and operator labor hours on the same crew timesheet by Job and Cost Code. Simple data entry, clear totals make it easy.
Track equipment by crew
Track equipment hours by crew (no specified operator). Setup equipment as a resource, or on a separate tab to track hours, cost, price and other details.
Equipment/operator tracking
Simplify crew timesheets even more by just tracking operator and equipment hours in one field.
Employee & Asset Data
Onboard new employees from your accounting/payroll ERP system and have their data populate automatically into Pacific Timesheet. Upload and update equipment and materials data automatically.
Crew Assignments
Have crew assignments sync automatically with Pacific Timesheet. Superintendents, Supervisors, Foremen and Crew Leads can start their day with resources automatically assigned to their crew timesheets.
Integrate Labor & Asset Data
Automatically integrate labor hours, equipment hours and materials quantities with your payroll and accounting systems daily or weekly.
+ TABLETS &
SMART PHONES
iOS and Android Tablets and Smartphones allow users to capture data in the field, and for you to see it in real time.
---
It adds up.
Pacific Timesheet is the most smart, flexible, fast solution available.