When you're on the go.
Manage and track employee time, expenses, assets and logs. For users in any industry where you need to track information on the go. Whether it's project time and expenses, or tracking of work or service orders in the field, enter, submit and get approved any time, expense and tracking sheets. A product of Pacific Timesheet, Pacific Time runs on any iOS or Android device.
Enter and Submit Timesheets:
Use Day or Week Views of Timesheet
Search and select projects/jobs, tasks, & other work items

Enter project/job hours

Track attendance (optional)

Enter leave manually

Scheduled leave displays automatically

Scheduled holidays display automatically

Enter detailed time entry notes or other field values

Enter per diem amounts

Copy previous day's entries

Receive automated timesheet reminders and late notices

Submit timesheet

Monitor approvals/rejections

Receive timesheet rejections with correction instructions

Create and Submit Expense Sheets:
Create expense sheets with date ranges and descriptions

Create expense entries by expense type

Enter per diem amounts
Code entries by client, project & other work items

Track expense item in local currency

Enter detailed expense descriptions (required) and notes

Attach receipt image using iPhone/iPad camera or gallery

Track payment method, personal or billable expense

Track meeting attendees.

View reimbursement amount in your currency

Submit expense sheet

Monitor approvals/rejections

Receive expense sheet rejection notices with correction instructions
Request Leave:
Create and submit leave requests like vacation or PTO
Leave request balance forecast shows negative balances

Errors for leave requests exceeding available balance

Monitor leave approvals/rejections

Receive leave approval notices with approval instructions

Receive leave rejection notices with rejection reasons

Approved leave automatically pushes onto future timesheets
Holiday Schedules:
Scheduled holidays automatically push onto timesheets

Holidays appear automatically on schedule of upcoming leave

Multiple holiday schedules
Leave Balance History:
View current balance for all leave types

View leave balance history of all leave types

Detailed audit log of all leave balance changes

View detailed log of accruals, dates, rules & years of service

View leave approvals/rejections
Asset and Production Tracking:
Materials tracking by asset name, ID, class, costs, billings

Vehicle/equipment tracking by name, ID, odometer readings

Production tracking by asset, project/job cost code, task
Documentation and Logs:
Incident and accident logs

Daily activity logs

Safety meeting logs

Daily work plans
Learn more at www.pacifictimesheet.com. Must be an existing Pacific Timesheet basic or enterprise user.


Main application menu with time, expense, asset & log options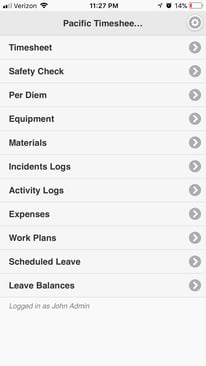 Add work or leave hours to
timesheet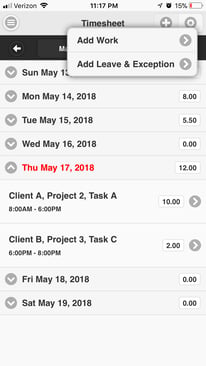 Create detailed work entries with projects and tasks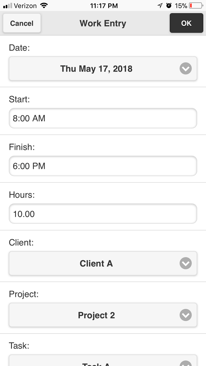 Copy previous day's entries and submit timesheet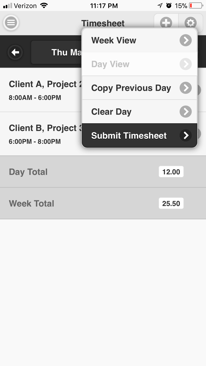 Create expense sheet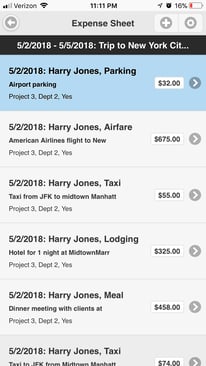 Create detailed expense entries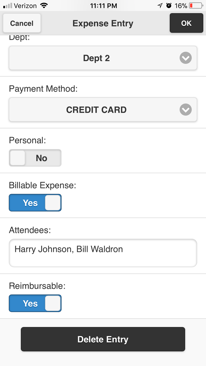 Pacific Time & Pacific Timesheet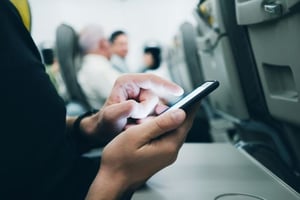 Pacific Time, like the Pacific Timesheet enterprise system, is one of the most flexible mobile apps for employee time and expense. Pacific Time is the mobile app that allows users in the field or on the go to capture their time, expense, asset and log data quickly and seamlessly. Pacific Timesheet has the administrative tools you need to manage and deploy jobs, phases, cost codes to the field, or make employees, equipment and other resources available to users like foremen, supervisors and project managers. With both, you can manage and track everything you need, on and offline, in the field, office or plant.
Pacific Time supports many industries & divisions in one system


Pacific Time and Pacific Timesheet are built for the enterprise. The key to Pacific Time is advanced system templates, sheets, screens, policies and rules, configured in the cloud, that drive the setup of every mobile device automatically without fail. Allowing you to run every division and department of your business, with all their different requirements, on one system.
How to try Pacific Time & Pacific Timesheet
You can try Pacific Time as part of a Pacific Timesheet free 30-day trial now. Test a variety of sheets, templates, policies and workflows for your different divisions and departments. Pacific Timesheet provides full support during your free trial.
Download & install Pacific Time apps