IVR time cards and call in solutions
IVR time card and call in solutions address the challenges posed by offline workers 1) Time and attendance tracking for unsupervised employees in the field, and 2) A shift worker who does not call in sick, or his call-in message never reaches the proper supervisor. Interactive Voice Response (IVR) technology provides bullet-proof automated solutions. They require little or no training, just the ability to use a telephone and follow simple system prompts.
Problems with paper timesheets
No notice of lateness or absence
"Buddy punching" problems
Lost timesheets
Busy fax machines
Overpaying overtime
Excessive payroll adjustments
Delayed billing hurting cash flow
---
IVR Phone Time Card Solutions
Pacific Timesheet IVR Phone Timesheet Software systems capture the location, time and work of all employees calling in

.
Accurate check in and out times will save you thousands in more accurate tracking of overtime and other exception time hours.
Real time capture and storage of employee hours means no double data entry for payroll, far fewer errors and faster billing.
Features that handle employee absences immediately that might affect a customer site adversely.
Accurate attendance can be used to better manage and identify employee lateness.
Eliminate double data entry and speed up payroll, reduce errors and speed billing.
Pacific Timesheet IVR Phone Timesheet solutions reduce the time and cost of employees submitting their time and supervisors tracking and approvals their hours by more than 50%.
Sample Call Flow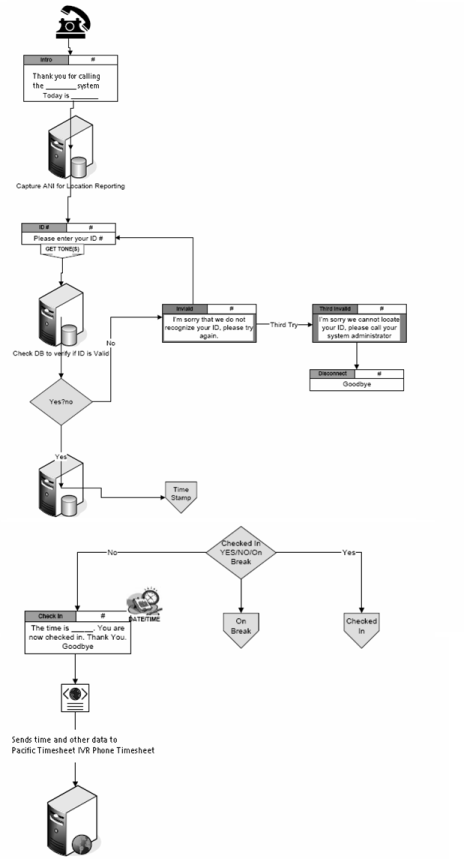 How It Works
Employees call into Pacific Timesheet IVR Phone Timesheet system using an 800 number.
Caller ID can be captured to authenticate employee location for reporting.
Employee enters and system validates employee ID.
Error handling prompts employee to re-enter ID. If second attempt fails he or she is prompted to contact their supervisor or system administrator.
If ID is correct, system clocks in employee as checked in or checked out from a previous punch.