Cloud timesheets that are scalable, safe & secure
With Pacific Timesheet Cloud Timesheet Systems you can launch a new system in days, not months, allow you to launch time off management solutions, and manage all aspects of employees' scheduled time off in several ways. Automated time off accruals add entitlements to various balances. Time is scheduled using an employee request and approval system. Automated multiple holiday schedules can be implemented for various employee types, divisions or country groups. Easy-to-use self-service features allow employees them to their check time off balances, schedules and the status of their requests anytime anywhere.
5 things to know about cloud timesheet software systems
With cloud timesheet software programs, you should demand the highest in system performance, rapid deployment, superior return on investment, lower effective system and management costs, the utmost in system security, and seamless real time secure data synchronization through web services.
1. Highest performance
When your evaluate cloud timesheet software, you begin with system performance. Pacific Timesheet SSAE 16 and SOC 2 compliant cloud timesheet solutions use proven, superior cloud computing platforms, supported by industry-leading service level commitments, 99.9% system availability, and superior Internet connectivity that extends worldwide for global cloud systems.
2. Fastest deployment
When you have to get going quickly, Pacific Timesheet cloud timesheet software is lightening fast when deploying trial, test and production systems. Because the cloud gives 100% visibility for both vendor and customer, Pacific Timesheet cloud timesheet systems provide the fastest implementation and monitoring services. Finally, we as the experts on your system, can advise, consult and support you like no other resource can.
3. Cheaper than self-hosted
Cloud timesheet software is a non-capital expense, making Pacific Timesheet cloud solutions less expensive than on-premise software purchases for the first two to three years. But there are many more cost savings: 1) 20X faster support case resolution 2) 100X faster adoption of new features and enhancements 3) no IT costs for server administration, tech system admins, network and mail server administration.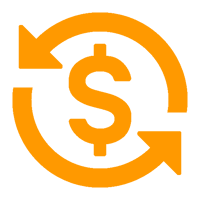 4. Highest security
Pacific Timesheet has the highest levels of security compliance in the industry (SSAE 16 and SOC 2 compliance). Robust system and account security, fully integrated with leading SSO and identity management systems provide comprehensive single-sign-on web services integration. Data is sent and received using the highest levels of SSL encryption.
5. Seamless integration
Pacific Timesheet cloud timesheet applications integrate with any on-premise or other cloud-based third party systems using secure web services or batch synchronization methods. Keep employee, cost center, assignment, projects, jobs, cost codes and more data synchronized and ensure that all data captured is valid. Eliminate the need for adjustments, get rid of double data entry, speed payroll and billing.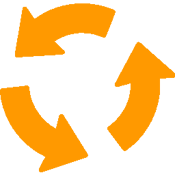 6. More data collection options
Pacific Timesheet cloud timesheets allow you to collect data in real time from any device including desktop and laptop computers, smartphones, tablets, IVR phone interfaces and web-based time clocks. Web services allow for real time data collection and data synchronization of time clocks and all interfaces.


---
Learn more about the benefits of Cloud Time, Work & Asset Tracking.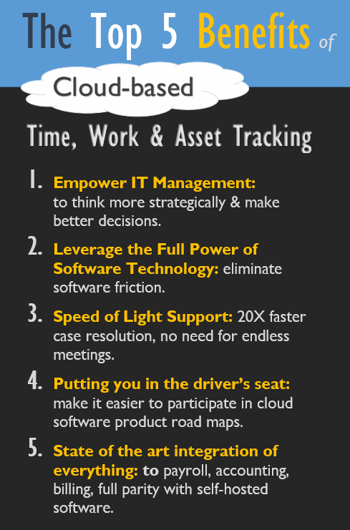 ---
Get Started
Pacific Timesheet offers free trials that allow you to kick the tires and see if our timesheet cloud services are for you. During the trial we support you as if you were a customer. Tell us about your requirements, setup and configuration questions, or product enhancements. Begin an ongoing conversation with our staff who stand ready to translate your requirements into a cloud system that addresses your most critical time, expense, work, asset documentation tracking needs.
---
Final Questions
When evaluating cloud timesheet software, there are a few important questions to address. Perhaps you have concerns about the time and effort moving to cloud timesheet software. Maybe you are concerned about migrating your historical timesheet data to a new system. "Is this even possible?" you're wondering. "And what will it cost?" Perhaps training employees to adopt a new cloud timesheet system is a concern. How must will such a training program cost? Or will my employees find it simple and easy to use. Pacific Timesheet can address these questions and more during free consultations on how to launch a cloud timesheet software system, migrating historical timesheets and other data, and the most cost-effective training and education necessary for your organization to successfully adopt and use a new system.
Deploying cloud timesheet software
Pacific Timesheet cloud time, expense, assets and documentation tracking solutions allow you all the features of enterprise on-premise applications. However, with no capital purchases, no network or server administration headaches you get started fast. You can launch and scale your timesheet management system on demand as your business changes over time. Let us show you how by starting a free trial.
Migration historical data
We often hear, "What do I do with my historical timesheet and other data?" Migrate it into an industry-leading cloud timesheet system. Pacific Timesheet offers data migration tools to get your historical timesheets and data from Excel, home-grown or other systems into our cloud timesheet systems quickly and seamlessly. No four-month consulting projects with mountains of fees. Speak with us now about how it works.
Superior training and e-learning
Maybe you already know that user acceptance of a new cloud timesheet system is a lot higher when implemented with training and e-learning resources. Pacific Timesheet provides cost-effective system administrator training, end user, supervisor, project manager, payroll manager, billing and operations manager training options, and train-the-trainer option so you can scale your training effort from 1 to 5,000 in no time.