Special Timesheet Features
Time Entry Notes/Details
You can capture notes of up to 2,000 characters with any time entry. You can also capture any other time entry value you require, including list, text, numeric and other data.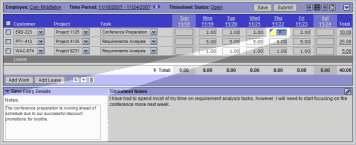 Configurable Totals
Display on the timesheet any totals such as overtime, double time, time off or other values being tracked.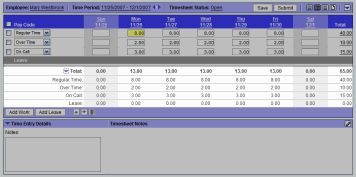 Automatic Copy Forward
Employee preferences can be set to have the last period's timesheet automatically copy forward to the current period. Or an employee can copy timesheets forward manually. They have the option of copying forward just the timesheet rows, or the rows and hours, too.